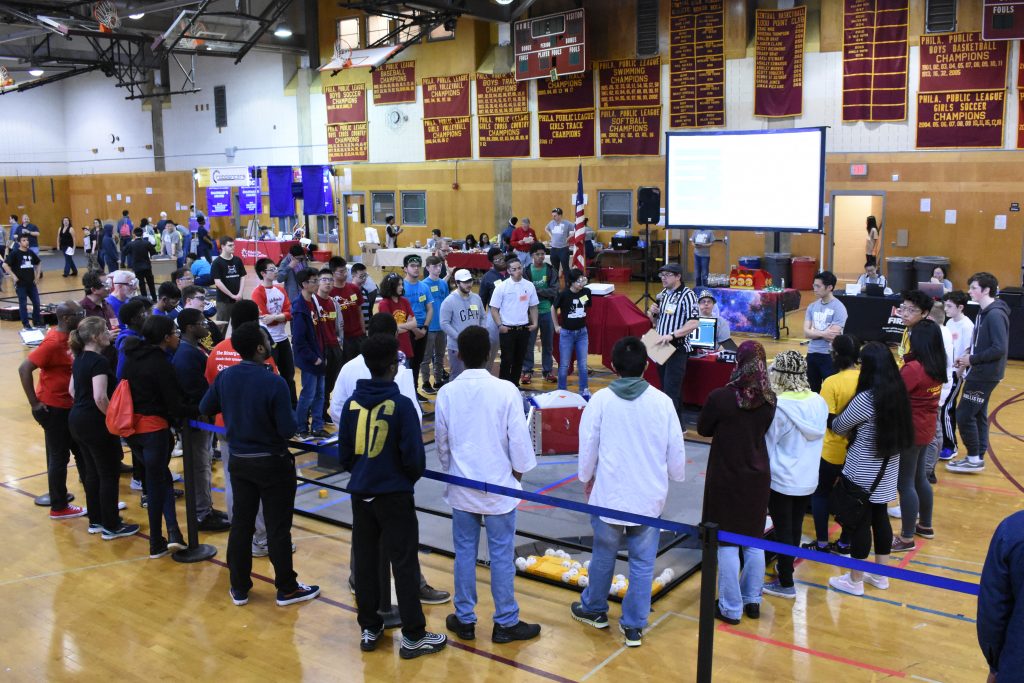 RoboJawn is an off-season event for Philadelphia FIRST Tech Challenge and FIRST LEGO League Challenge teams. Occurring after the FIRST Championship, the event gives Philadelphia teams one more opportunity to compete before the end of the school year. The winning teams at RoboJawn earn the title of Philadelphia Robotics Champion.
Teams have a few months between their qualifiers and RoboJawn to continue work on their machines, code, and projects — often in a lower stress, slower pace manner than the race to the qualifier. This makes the springtime a great time for continued learning and team building. RoboJawn will be held as two separate events for the two different programs, each aligned with a larger tech event in Philly.
FIRST LEGO League RoboJawn 2023
Saturday February 18th, 2023 at Central High School.
For FIRST LEGO League Challenge, the event will run from 9:00am – 4:00pm and will include robot rounds (3 per team), and teams will be judged on their innovation projects and robot design. Capacity: 30 teams.
For FIRST LEGO League Explore teams, the event will be split into two groups if there is sufficient demand, with a morning group 9:00am-12:00pm and an afternoon group 1:00pm-4:00pm. The event will run like a traditional Explore Festival. Capacity: 30 teams
21079 Hornets
27583 Comly Construction
26747 Ad Prima Explorers
57434 Harrington B-1 Builders
42790 Team Fedora
57832 Farrell Foxes
54380 MYA Strong 9
58153 Martha Washington
58759 Pennell Panthers
59147 Pennell Panthers 2
57862 Ad Prima Team 3
56852 Ad Prima Charter School
35392 Sharswood Robo-Sharks
51803 CW Henry Robotics
58866 Yellow Jackets
57487 Houston Hornets
52015 Comly Conquerors
54382 Morrison Mustangs
FIRST Tech Challenge RoboJawn 2023 
Saturday May 6th, 2023, from 8:00am–5:00pm at West Philadelphia High School. 
The format is similar to a traditional tournament, including judging and robot matches. Team Registration will open on February 4th, 2023.