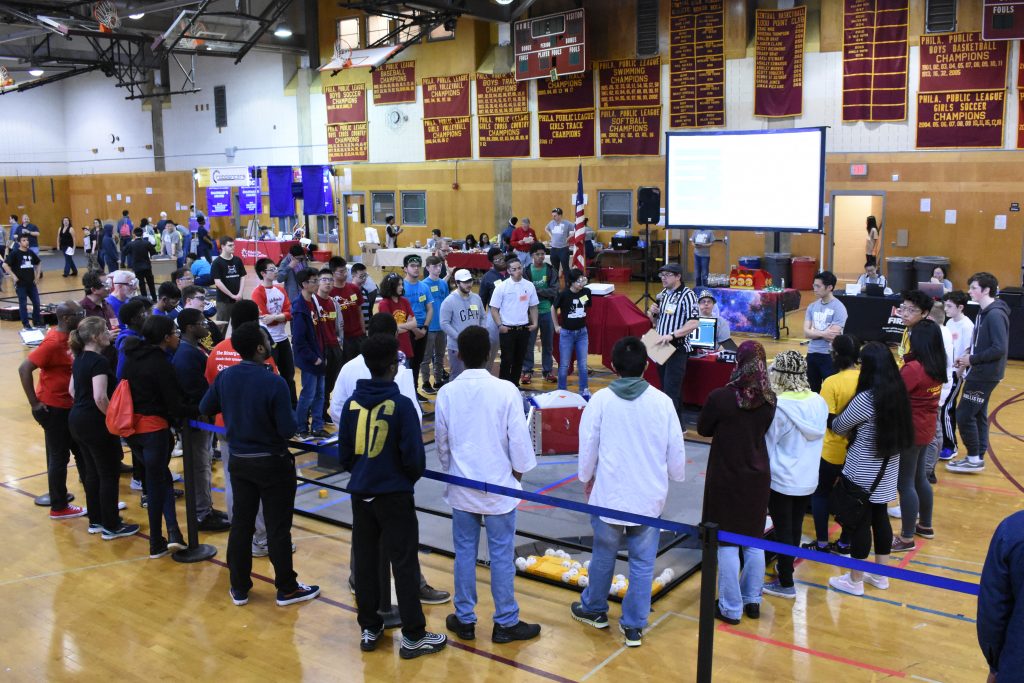 RoboJawn is an off-season event for Philadelphia FIRST Tech Challenge and FIRST LEGO League Challenge teams. Occurring after the FIRST Championship, the event gives Philadelphia teams one more opportunity to compete before the end of the school year. The winning teams at RoboJawn earn the title of Philadelphia Robotics Champion.
Teams have a few months between their qualifiers and RoboJawn to continue work on their machines, code, and projects — often in a lower stress, slower pace manner than the race to the qualifier. This makes the springtime a great time for continued learning and team building. RoboJawn will be held as two separate events for the two different programs, each aligned with a larger tech event in Philly.
FIRST Tech Challenge RoboJawn 2023
Saturday May 6th, 2023, from 8:00am–5:00pm at West Philadelphia High School. 
The format is similar to a traditional tournament, including judging and robot matches.
| | | | |
| --- | --- | --- | --- |
| Team Number | Team Name | School/Organization | Location |
| 321 | Lucy Jr. | Central High School | Philadelphia, PA |
| 5320 | RoboLancers Gold | Central High School | Philadelphia, PA |
| 5488 | Robodragons | Freire Charter | Philadelphia, PA |
| 6540 | Railsplitters | Abraham Lincoln High School | Philadelphia, PA |
| 6552 | Vikings | Northeast High School | Philadelphia, PA |
| 6553 | JV | Northeast High School | Philadelphia, PA |
| 6606 | Mustang Robotics | Murrell Dobbins CTE | Philadelphia, PA |
| 6676 | RoboLancers Crimson | Central High School | Philadelphia, PA |
| 7244 | OUT of the BOX Robotics | OUT of the BOX Robotics | Coatesville, PA |
| 8480 | Technabots | Philadelphia High School for Girls | Philadelphia, PA |
| 8730 | RoboGriffins | Academy at Palumbo | Philadelphia, PA |
| 9854 | Penn Charter Robotics | William Penn Charter School | Philadelphia, PA |
| 11493 | Eclipse | SLA@Beeber | Philadelphia, PA |
| 12308 | Ambassadors Robotics | Bodine High School | Philadelphia, PA |
| 13347 | BinaryBots | HLCCTL (Project Home) | Philadelphia, PA |
| 14130 | To Be Determined | Community | Lancaster, PA |
| 16941 | RoboLancers Cobalt | Central High School | Philadelphia, PA |
| 22245 | RoboLancers Kale | Central High School | Philadelphia, PA |
| 22246 | RoboLancers Aubergine | Central High School | Philadelphia, PA |
| 22247 | RoboLancers Pumpkin | Central High School | Philadelphia, PA |